T-shirt for posture correction for adolescents and children
medi Posture plus young is a shirt which corrects the wearer´s posture. This product is to be used exclusively for treatment of the spine and is only intended for use on unbroken skin.
---
Product benefits
---
Intended purpose
The support that is woven into the fabric ensure that the trunk is kept upright, thus correcting posture. The trunk and the shoulder muscles are activated and this works against deviations, muscle weakness and/or imbalances. This strengthening of the muscles is not noticeable but improves mobility and reduces pain.
Goal setting
Put the product on as you would a normal T-shirt.
Wearing directions
Please always wear the medi Posture plus young on the skin and under your clothing.
If you experience excessive pain or your condition worsens whilst wearing the T-shirt, stop wearing the product immidiately and contact your doctor or the specialist supply store.
Standard colours
---
Material components
Cotton, elastane, polyamide,
polyethylen, polyurethane
---
Washing instructions
Wash the product by hand, preferably using medi clean washing agent.
- Do not bleach.
- Leave to dry naturally.
- Do not iron.
- Do not dry clean.
---
Size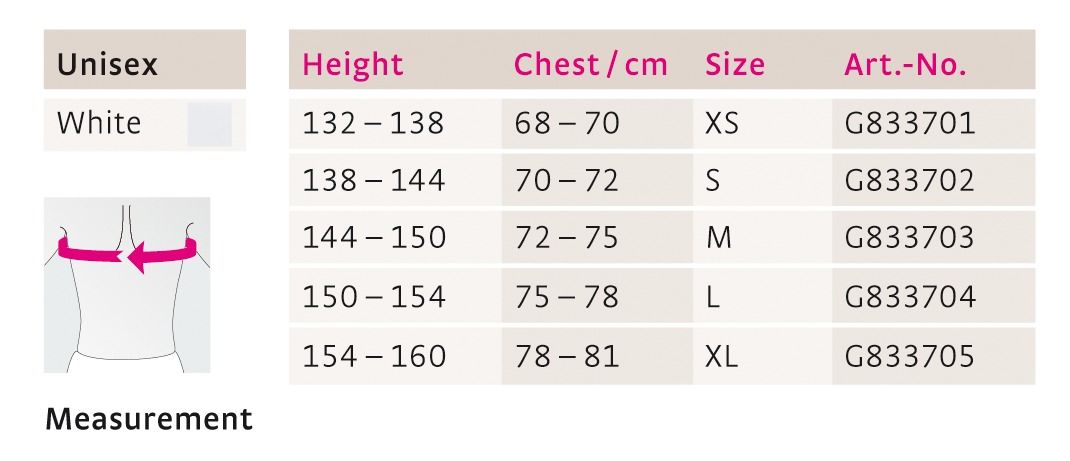 Indications
Curvatures of the spine in adolescents and children
Deviation caused by scoliosis
Mild scoliosis Dorsal kyphosis
Hyperlordosis
Asymmetrical scapula in the trunk
Posture-related pain in the spine
---
Contraindications
None known at present. If applied correctly, there are no contraindications. You should consult the doctor treating you you before you use it if the following circumstances apply to you: Disease or injury to the skin in the area that the shirt is used on, particulary when signs of infection (excessive heat, swelling or redness) are apparent.
Mon. to Thu. 08.00-17.00
Fri. 08.00-16.00
02 9890 8696
02 9890 8439