All you experience is reliability. Compression has never proven so trustworthy.
mediven plus has established itself as a reliable choice for numerous indications over a period of more than 40 years, and it just got better. With its additional plus points and reliability for him and her it will ensure that you continue to enjoy a good quality of life.
mediven plus is suitable for a wide range of activities so you can have your unique 'plus moments'; put your trust in the best mediven plus of all times!
---
---
Standard colours
Trend colours
---
Lengths
Below-knee stocking
Made-to-measure
Maternity pantyhose
Men's leotard
Pantyhose
Thigh-length stocking
---
Material components
CCL 1:
25% elastane, 75% polyamide

CCL 2:
31% elastane, 69% polyamide

CCL 3:
37% elastane, 63% polyamide
---
Washing instructions
Wash stockings separately or together with similar coloured fabrics. Do not use bleaching agents or softeners – please use detergents for woollens. Rinse stockings several times afterwards! After washing please hang your stocking up to dry or spin dry immediately – using the delicate wash setting. Do not leave lying moist on or in a towel. Do not leave to dry on heaters or in direct sunlight. medi stockings are not to be cleaned chemically, either with spot removers or using benzene.
Reduced cycle
Do not use chlorine bleach
Tumble dry at low setting
Do not iron
Do not dry clean
---
Size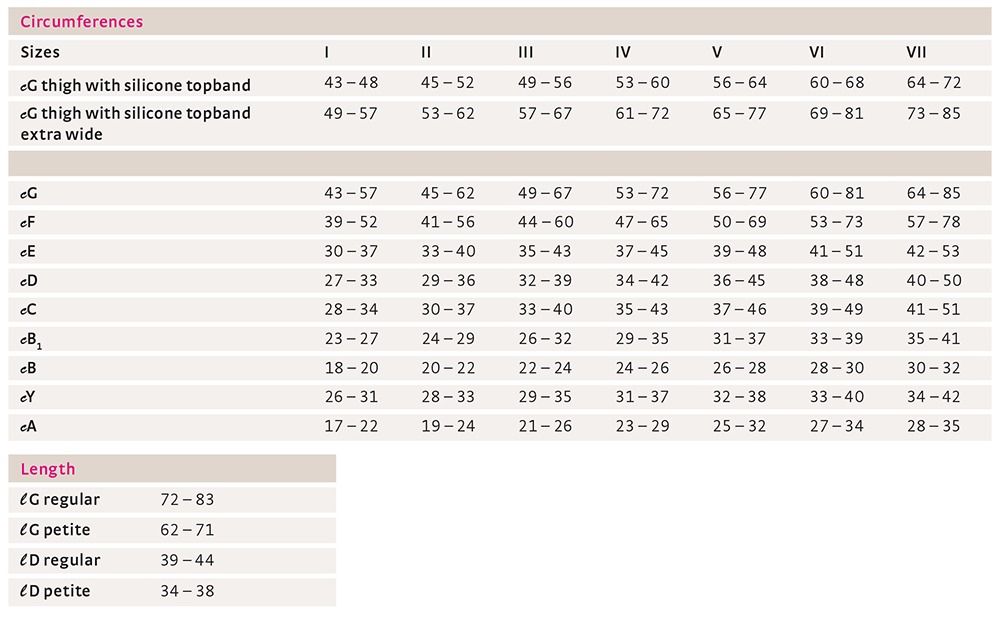 ---
Size
I
II
III
IV
V
VI
VII
Variants
Below-knee stocking standard (AD)
Below-knee stocking short (AD)
Thigh length stocking standard (AG)
Thigh-length stocking short (AG)
Thigh-length stocking standard (AG) with waist attachment
Thigh-length stocking short (AG) with waist attachment
Pantyhose standard (AT)
Pantyhose short (AT)
Pantyhose short (AT) with maxi panty top
Pantyhose standard (AT) with maxi panty top
Maternity pantyhose standard (AT/U)
Maternity pantyhose short (AT/U)
Men's leotard standard (AT/H) with open fly
Men's leotard short (AT/H) with open fly
Made to measure
Indications
Varicose veins

Primary or secondary varicosis
Varicose veins in pregnancy
Supporting sclerotherapy
After varicose vein surgery

Chronic venous disorders: C0 to C5 according to CEAP
Thrombosis prophylaxis in mobile patients
Thrombophlebitis (superficial) or condition after healed phlebitis
Deep venous thrombosis, condition after thrombosis, post-thrombotic syndrome
mediven plus - Product video
Medical compression garments
Mon. to Thu. 08.00-17.00
Fri. 08.00-16.00
02 9890 8696
02 9890 8439